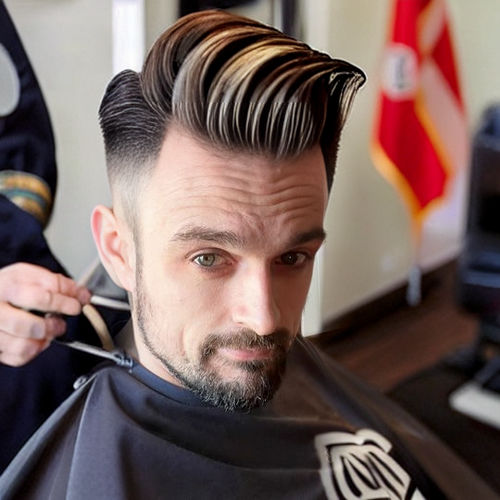 Pompodour hair style
The pompadour hairstyle is a classic and iconic look that exudes style and sophistication. Characterized by its voluminous top section, swept upward and back, while the sides and back are kept shorter. The pompadour offers a blend of elegance and edginess, making it a popular choice for individuals who want a bold and statement-making hairstyle.
Types of person the pompodour suits
The pompadour hairstyle suits individuals who desire a polished and distinguished appearance. It works best for those with medium to long hair length and can be adapted to different hair types and textures. The pompadour complements various face shapes, including oval, square, and heart-shaped faces, as it adds height and balances facial features. This style is often embraced by those who appreciate a retro-inspired look with a contemporary twist.
Famous people with the pompodour style
Numerous celebrities and style icons have rocked the pompadour hairstyle, showcasing its timeless appeal and versatility. Figures like Elvis Presley, David Beckham, and Bruno Mars have confidently sported the pompadour, becoming synonymous with the style. Their choice of this look highlights how the pompadour can be adapted to suit different personalities, hair textures, and fashion aesthetics.
What to ask a barber/stylist
When visiting a barber or hairstylist for a pompadour haircut, communication is key to achieving the desired result. Discuss the ideal hair length and the amount of volume you desire for the top section. Ask about suitable cutting techniques and options for the sides and back, such as fades or tapered cuts. Inquire about recommended styling products to achieve and maintain the height and hold required for the pompadour.
How to get the pompodour style
Styling the pompadour involves adding volume and creating height at the top. Start with towel-dried hair and apply a volumizing mousse or styling product to the roots. Use a round brush and a blow dryer to lift the hair at the roots and create the desired height. Comb the top section backward and slightly upward, using a comb or your fingers to shape and style it. Finish with a hairspray or styling product to hold the pompadour in place.
Products you might need
To style and maintain the pompadour, several products can be helpful. Consider using a volumizing mousse or root lift spray to add volume and lift at the roots. A round brush and blow dryer are essential for creating height and shaping the hair. Additionally, a high-quality hairspray or styling gel can provide hold and ensure the pompadour stays in place throughout the day.